Pickle and Dill Pizza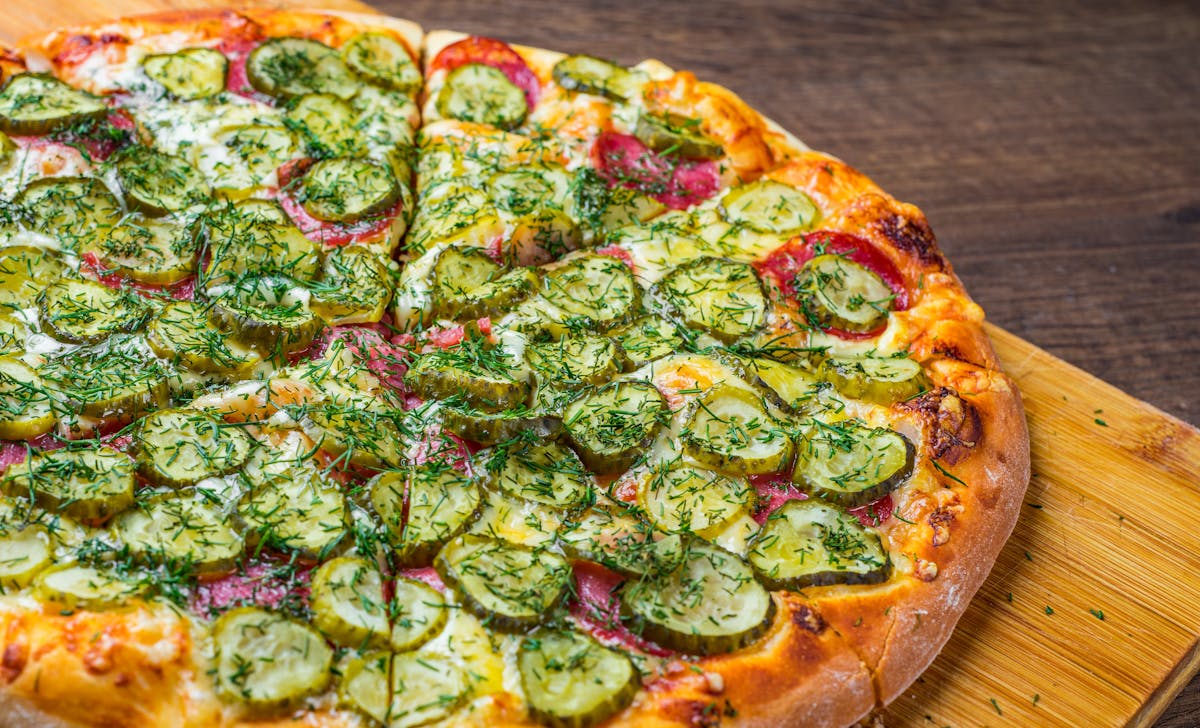 Ingredients
Pizza Dough (or 1 lb store bought)
4 cups All-Purpose Flour
½ (1 packet) active dry yeast
1 ½ cups warm water
1 tbsp salt
Alfredo Sauce or white cheese sauce (store bought)
Garlic salt
1 ½ cups shredded mozzarella cheese
1 jar Topor's pickles, any variety, thinly sliced.
Fresh dill
Directions
Pizza Dough, if making from scratch
Pour the warm water into a small bowl. Sprinkle the yeast in and whisk. This will activate the yeast. Let the mixture sit at room temp for 10 minutes, or until the mixture is bubbling.
In a large mixing bowl or the bowl of a stand mixer, mix the flour and salt. Add the wet mixture and knead either by hand or with a dough hook until a wet dough forms. If it is too dry, add a little water until the dough is sticky. Cover the dough with a wet towel and let it rest for 30 minutes. This can also be done ahead of time and stored in the refrigerator.
When ready, let the dough rise until doubled in size, 2-3 hours.
Punch down the dough and turn out onto a floured surface.
Roll out into a 12 inch round dough.
Let rise for 15 minutes.
Assemble
Preheat an oven to 450 degrees. Place a pizza stone on the middle rack or use an upside down sheet tray.
Top the dough with the alfredo sauce. Use a spoon to spread a thin layer over the dough. Sprinkle the dough with garlic salt.
Cover uniformly with the mozzarella.
Arrange the sliced pickles on top of the mozzarella. Garnish with fresh dill over the top.
Place the pizza on the stone or sheet tray in the oven and bake until crust is a dark golden color, about 12 – 14 minutes.
Slice and serve!